Pierre Guillois founded his company in 1991. He initially called it Les Madeleines in reference to Witkiewicz's first production La Princesse Madeleine, created in Paris' Tuileries garden, and in hommage to the actresses who initiated the project.
Associate Artist, Atelier du Rhin
Following several years in a fringe company, a brief stint as an actor and an enjoyable period working as assistant director to Jean-Michel Ribes, Guillois was invited by Matthew Jocelyn in 2001 to become Associate Artist at Atelier du Rhin, Alsace's regional theatre centre in Colmar.
In this role, he participated in a far-reaching cultural programme in underprivileged areas of the city. Working first as assistant to Guy Bénisty, he eventually took over the programme's management, leading numerous theatre workshops for it.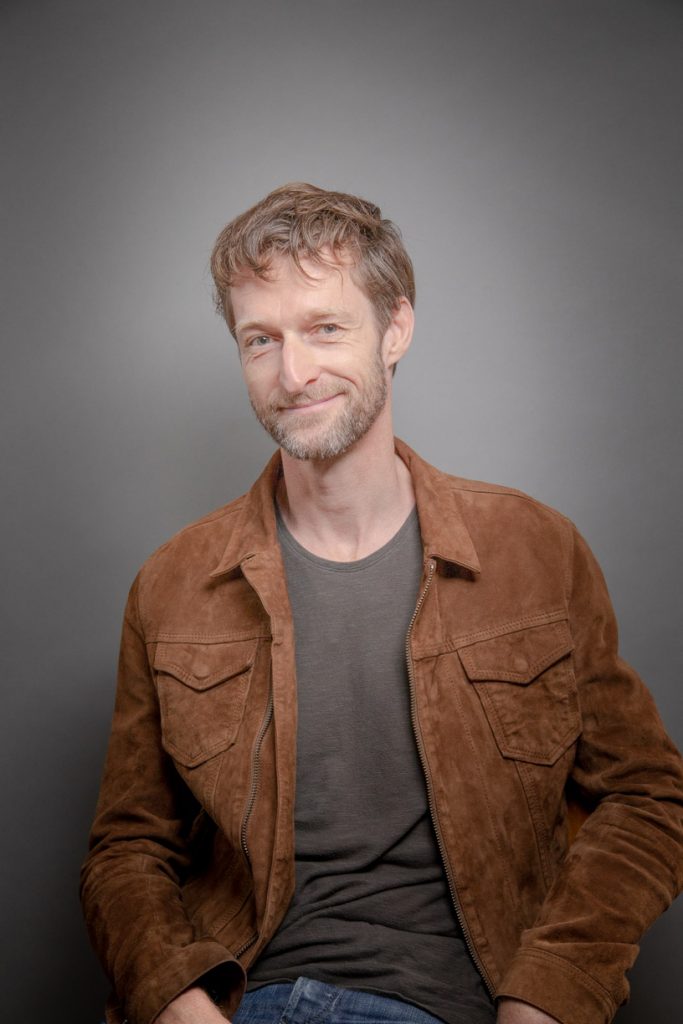 From Colmar to Bussang
From this enriching experience, Guillois went on to apply for the directorship of Théâtre du Peuple in Bussang, and was named to the post in 2005. In this role, he found himself once again in a position to work with both amateurs and professionals.
He built his directorship around certain fundamental principles: high expectations of amateurs; local involvement; and sufficient investment to support a strong artistic ambition.
Writing soon took its place at the heart of his work. Guillois took on writing projects himself, commissioned texts from David Lescot, Rémi De Vos and Marion Aubert, and invited Olivier Tchang Tchong and David Bobee to contribute their reflections on popular theatre.
Along with his highly motivated team, Guillois put energy into training programmes for amateurs, facilitating meetings between writers and amateurs and organising workshops in several French departments. These efforts resulted in a revitalisation of amateur involvement at Théâtre du Peuple.
Sacrifices, co-written with Nouara Naghouche in 2008, was a co-production of Atelier du Rhin and Théâtre du Peuple and characterises the socially committed theatre that Guillou wished to create. This hard-hitting one-woman show was performed more than 220 times.
Le Gros, la vache et le mainate was the last play authored by Pierre Guillois to be staged at Bussang. Under a veneer of pure entertainment, the work revealed Guillois' thoughts on popular theatre's capacity for daring and cruelty. The show toured in Paris at Théâtre du Rond Point and Théâtre Comédia in 2012 and was performed over 130 times.
Pierre Guillois has often worked in mixed-genre theatre with links to cabaret. His last creation in this vein was Grand fracas issu de rien, a spectacular theatrical cabaret created in Bussang in summer 2011. The show was performed at Le Quartz in January 2013 and toured the National Theatres of France, including a 2015 production at Théâtre 71 National Theatre in Malakoff.
Guillois began collaborating with classical singers, first working with Les Jeunes Voix du Rhin in Colmar and later Besançon's Théâtre Musical. He went on to create the opera buffa La botte secrète de Claude Terrasse, performed by Compagnie Les Brigands in December 2011 at Paris' Théâtre de l'Athénée before going on tour. More recently, Guillois has worked with street theatre company Les Grooms on Verdi's Rigoletto.
Best Comedy Molière for Bigre
Guillois was Associate Artist at Le Quartz National Theatre in Brest from September 2011 to June 2014. There, he co-wrote and performed Bigre with Olivier Martin-Salvan and Agathe L'Huillier. Bigre enjoyed more than 400 performances in National Theatres and other venues in over 120 cities in France, Switzerland, Belgium and Portugal and was seen by more than 160,000 people. The show received industry recognition in 2017 when it won the Molière Award for Best Comedy.
In 2017, Guillois directed Au Galop!, written and performed by Stéphanie Chêne and staged at Brest's Festival DañsFabrik and at the Festival Mythos in Rennes. His next production, Le sale discours, written and performed by David Wahl, was a narrative focussed on human beings and their waste.
Associate Artist, Théâtre du Rond-Point
Pierre Guillois is currently Associate Artist at Théâtre du Rond-Point. In January 2018, at the Normandy-Rouen National Drama Centre, he created Opéraporno with a score by Nicolas Ducloux. His new production Dans ton cœur is the latest show to be performed under the big top of Akoreacro, a company blending circus, theatre and music.